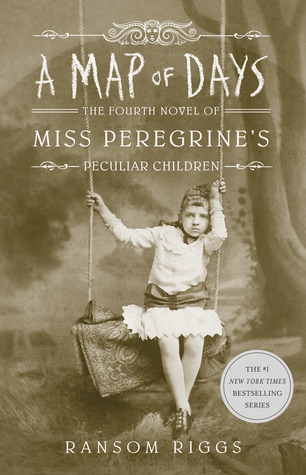 Ratings : 1054
Review : 214
---
Published : Oct. 2, 2018
By : Dutton Books for Young Readers
Language : eng
Paperback : 496 Pages
Published : Oct. 2, 2018
By : Dutton Books for Young Readers
Language : eng
Paperback : 496 Pages
A Map of Days (Miss Peregrine's Peculiar Children, #4)
1054 Ratings
-
214 Review
For the hardback, see ISBN13: 9780735232143.

The #1 bestselling series returns with a thrilling new story arc set in America!

Vintage photographs reveal the never-before-seen world of peculiar America with a stunning addition—full-color images.

Having defeated the monstrous threat that nearly destroyed the peculiar world, Jacob Portman is back where his story began, in Florida. Except now Miss Peregrine, Emma, and their peculiar friends are with him, and doing their best to blend in. But carefree days of beach visits and normalling lessons are soon interrupted by a discovery—a subterranean bunker that belonged to Jacob's grandfather, Abe.

Clues to Abe's double-life as a peculiar operative start to emerge, secrets long hidden in plain sight. And Jacob begins to learn about the dangerous legacy he has inherited—truths that were part of him long before he walked into Miss Peregrine's time loop.

Now, the stakes are higher than ever as Jacob and his friends are thrust into the untamed landscape of American peculiardom—a world with few ymbrynes, or rules—that none of them understand. New wonders, and dangers, await in this brilliant next chapter for Miss Peregrine's peculiar children. Their story is again illustrated throughout by haunting vintage photographs, but with a striking addition for this all-new, multi-era American adventure—full color.
ABOUT Ransom Riggs
Hi, I'm Ransom, and I like to tell stories. Sometimes I tell them with words, sometimes with pictures, often with both. I grew up on a farm on the Eastern shore of Maryland and also in a little house by the beach in Englewood, Florida where I got very tan and swam every day until I became half fish. I started writing stories when I was young, on an old typewriter that jammed and longhand on legal pads. When I was a little older I got a camera for Christmas and became obsessed with photography, and when I was a little older still my friends and I came into possession of a half-broken video camera and began to make our own movies, starring ourselves, using our bedrooms and backyards for sets. I have loved writing stories and taking photographs and making movies ever since, and have endeavored to do all three.